Main content starts here, tab to start navigating
Store
H Town Restaurant Group gift cards are a perfect gift for everyone! And, they can be used at any of the restaurants in the group –Backstreet Cafe, Caracol, Hugo's, Xochi, URBE and sister restaurant Prego.
This holiday season, for each $100 purchased in gift cards before December 31, 2023, the buyer will receive a bonus $20 gift card as a gift to them! (These bonus e-cards are redeemable after December 31, 2023). Cards can be purchased online or at the restaurants. When purchasing online, delivery options include a physical card mailed to the provided address, or virtual card that can be emailed.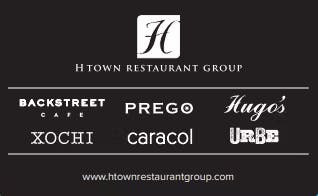 GIVE A GIFT IN GOOD TASTE!
NOTE: You will be directed to a secure ordering page via SWIPEit.
To purchase a gift card with your international credit card, please contact our online gift card processor at 508-452-7600.
---